2009 Dodge Nitro: Living Large for 2009
Summary
The Dodge Nitro is distinguished by its squared-off styling with exaggerated fender flares. The Nitro looks and feels larger than its size. Nitro features a high seating position and good cabin space. Its Load n Go cargo system makes loading heavy objects easy thanks to a rear cargo floor that slides rearward out over the rear bumper and can hold 400 pounds. And the rear seats and front passenger seat fold totally flat in seconds.
2009 Full Review
The Nitro comes with either two-wheel drive or four-wheel drive, with a choice of V6 engines. Three types of upholstery are available: basic cloth, a handsome stain-repellant cloth, and beautiful perforated leather. The cabin is quiet thanks to heavy use of sound deadening material, and visibility out the rear and to the front corners of the Nitro is excellent.
The Nitro gets suspension, steering and brake revisions to make the vehicle more linear and precise for 2009. Dodge says retuned springs, shocks, anti-roll bars and steering gear valve, plus stiffer rear axles, improve steering and handling, while a retuned brake booster, low rollback calipers and a revised brake pedal improve pedal feel. Dodge has also discontinued availability of a manual transmission, as well as the all-wheel drive system that was offered on SLT and R/T models.
Trim and Styling 2009
The 2009 Dodge Nitro comes as three models, SE, SLT and R/T. All are available with rear-wheel drive (2WD) or a part-time four-wheel drive (4WD) system that should not be left engaged on dry pavement.
Nitro SE 2WD ($22,240) and 4WD ($23,900) come with a 210-hp 3.7-liter V6 and a four-speed automatic transmission. Standard equipment includes cloth upholstery, air conditioning, remote keyless entry with power windows and door locks, 115-volt power outlet, flat folding front passenger seat, 60/40 folding rear bench seat, AM/FM/CD with MP3 with six speakers, Sirius satellite radio, auxiliary input jack, tilt steering column, slate-colored molded front and rear fascias and fender flares, folding power mirrors, theft-deterrent system, rear window washer/wiper, roof rails and P225/75R16 tires on steel wheels with wheel covers.
Nitro SLT ($24,560) and SLT AWD ($26,220) add Yes Essentials cloth upholstery that Dodge says is stain, odor and static resistant; leather-wrapped steering wheel with audio controls; six-way power adjustable driver's seat; heated exterior mirrors; vehicle information center; auto-dimming rearview mirror; universal garage door opener; fog lights; Load 'n Go cargo storage system with tie-down rails; 115-volt power outlet; chrome interior accents; cruise control; compass; tinted windows; body-colored front and rear fascias and fender flares; and P235/65R17 tires on aluminum wheels.
Nitro R/T 2WD ($24,560) and R/T AWD ($26,220) feature a 4.0-liter V6 making 260 horsepower, mated to a five-speed automatic transmission with manual shift capability. Options for all models include leather upholstery with heated front seats ($830); power sunroof ($895); rear park assist ($250); a Travel Convenience Group ($820) with an alarm, heavy-duty engine cooling, a Class III trailer hitch receiver, a wiring harness and a full-size spare tire; a Chrome Accents Group ($1,210) with chrome on the side steps, fuel filler and door sills; and Dodge's UConnect Multimedia Suite ($2,145), which has a navigation system with voice command, an iPod adapter, UConnect Phone wireless cell phone link, 6CD changer, and a 30-gigabyte hard drive to store music and photos. R/T and SLT offer a Convenience group ($1,345) with rear obstacle detection, an auto-dimming rearview mirror, Dodge's UConnect wireless cell phone link, remote engine starting, eight speakers and a subwoofer. The SLT can be ordered with chrome alloy wheels and the R/T sport suspension ($1,505).
Safety and Available Features 2009
Safety equipment that comes standard on all models includes dual front air bags, head-protecting curtain air bags, and a tire-pressure monitor. Active safety features include ABS with brake assist, traction control, and electronic stability control with Trailer Sway Control.
The Dodge Nitro is distinguished by its boxy styling. From the front, the Nitro is unmistakably Dodge. It's a nice touch, and for such a small piece it goes a long way toward relaxing the Nitro's blocky shape.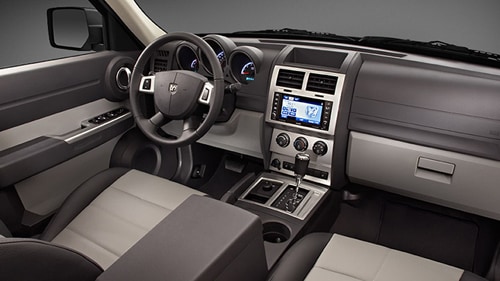 With its upright windshield, high beltline, rectangular windows and short front overhang, the Nitro's silhouette is reminiscent of a '62 Dodge Power Wagon. Our test Nitro R/T was equipped with standard 20-inch chromed aluminum wheels, and they sure are showy. Our preference would be for taller tires on smaller-diameter wheels.
Features and Interior Styling
The Dodge Nitro SE comes with the base cloth, while the SLT and R/T get the premium Yes Essentials fabric designed to repel stains, controls odors and reduces static electricity. The front buckets were comfortable and supportive, with excellent bolstering. The four-spoke steering wheel is handsome, with a big center hub and thick spokes at 3 o'clock and 9 o'clock, smaller spokes at 5 and 7. Info center buttons are under your thumb on the big spokes. Like most Dodges, the Nitro's interior materials are largely plastic and don't impart the feel of luxury or quality. There's good front-seat legroom, and it feels like there's even more because the dashboard is narrow. UConnect integrates the radio and navigation system and a 30-gigabyte hard drive that holds songs, pictures and the navigation information. The rear seats are split 60/40 and easily fold flat and the front passenger seat folds totally flat, great for hauling long objects. The SE model has a reversible, washable vinyl rear load floor, while SLT and R/T models have the unique Load n Go system. The 3.7-liter engine is rather harsh-sounding, but the Nitro's sound-deadening material muffles it well.
First Drive 2009
After long drives in both the Dodge Nitro SLT 4WD and R/T 2WD, we prefer the R/T.
The 3.7-liter engine in the SLT is slightly harsh and too slow, and the four-speed automatic transmission needs another gear. When we floored the SLT once at 40 mph, the transmission didn't kick down and the vehicle felt gutless. The suspension takes bumps with a jolt, especially at lower speeds and mostly at the front wheels. Dodge R/T models are considered high performance, but in this case it's not hot-rod performance, it's simply a higher level of basic performance by the engine, transmission and suspension.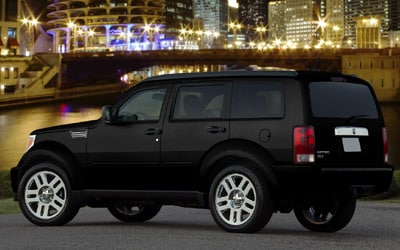 The 4.0-liter V6 is a single overhead-cam engine. It's rated at 260 horsepower, 50 more than the engine in the SLT, and it provides 265 pound-feet of torque at 4200 rpm. It refuses to short-shift, or upshift before redline under heavy throttle. Perhaps in response to those criticisms, Dodge has retuned the suspension, steering and brakes for 2009 to improve the Nitro's handling and braking. The Nitro has all the Dodge character. It feels bigger than its size, thanks to a high beltline, high seating position, and much glass at the rear corners. Mechanically, the SE and SLT models are hindered by the 3.7-liter engine and four-speed automatic transmission.
2009 Conclusions
The Nitro has all the Dodge character. It feels bigger than its size, thanks to a high beltline, high seating position, and much glass at the rear corners. The R/T used to cost $3200 more than the SLT, but for 2009 Dodge has leveled the prices, which makes the R/T the superior value. Mechanically, the SE and SLT models are hindered by the 3.7-liter engine and four-speed automatic transmission. "It turns out that the thing actually has something approaching character. For one thing, it is the first Dodge product I've driven in years that was absolutely flawless in the things that count -- fit, finish, interior design and comfort, and overall utility." says Washington Post "During our brief drive, the Nitro proved to be fun to drive for a vehicle of its size, and drew many glances from fellow drivers, including a couple of fingers -- one of them a thumb," adds Four Wheeler. The R/T has a more powerful and smoother 4.0-liter engine, which gets about the same gas mileage at the 3.7, along with a good five-speed automatic transmission. It also has a more comfortable ride. If you're going to opt for a Nitro, go for the R/T.